COMING UP AT THE BLUE PIG:
HAPPY HOUR ALL DAY EVERY FRIDAY
Don't let that desk tie you down; Fridays are for long boozy lunches and knocking off early!

Happy hour drinks ALL DAY from 12noon with £5 selected cocktails (12pm-close), £3 selected draught (12-9pm) and £10 bottles of wine (12-9pm).

Get your weekend started as you mean to go on!
50% OFF ALL BURGERS ALL DAY EVERY MONDAY!
PIG OUT MONDAYS! Give that Monday blues a miss and grab any of our legendary burgers 1/2 price all day every Monday: no vouchers or hassle - simply pop in and pick your favourite towering meaty delight or veggie / vegan treat! To book a table get in touch: manager@thebluepigmcr.co.uk / 0161 832 0630
Check out the menu HERE

Not valid in conjuction with any other offer.
PIG-TUREHOUSE
BI-WEEKLY TUESDAYS | 8PM | FREE ENTRY
CULT FILMS SERVED UP WITH LICOR43 MOVIE INSPIRED COCKTAILS + FREE POPCORN! Booking is highly recommended, so get in touch with us today to reserve a table: manager@thebluepigmcr.co.uk / 0161 832 0630
Tuesday 3rd October @ 8pm
BLADE RUNNER

Catch 1982's original sci-fi classic 'Blade Runner' at Pig's big screen on Tuesday 3rd October, before the sequel 'Blade Runner 2049' hits cinemas on Friday 6th!
Loosely based on Philip K Dick's 1968 novel, Ridley Scott's legendary masterpiece depicts a dystopian Los Angeles in 2019, where world-weary Rick Deckard (Harrison Ford) hunts down Tyrell Corporation's genetically engineered, human-like 'replicants' that have escaped from space colonies. To complicate his last hunting mission, Deckard falls in love with Rachel (Sean Young), a replicant…
Do not miss out on this chance to catch this absolute cult classic on big screen ahead of the release of the sequel!

FUTURE SCREENINGS: TRUE ROMANCE (17th October) // HALLOWEEN DOUBLE BILL: HOKUS POKUS 6pm & THE EXORCIST 9pm (Tuesday 31st October) // THE BIG LEBOWSKI (7th November)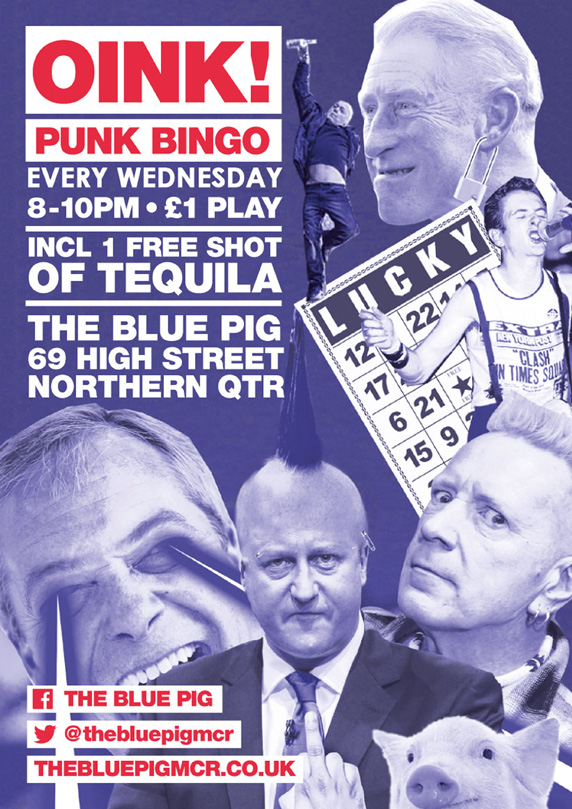 OINK PUNK BINGO!
EVERY WEDNESDAY | 8-10PM
£1 PLAY INC FREE SHOT OF TEQUILA

Oink! Punk Bingo at The Blue Pig Northern Quarter is a new fangled, pants dropping, white knuckle twist on the Great British pastime, playing classic hits from the 60's all the way through to the naughties. Join your hosts Ed (Edinburgh Festival stalwart and reigning Lincoln Walkabout king of comedy) and Soph ('Do You Remember The First Time?' clubnight's DJ), as they sling on the hits (and misses) of every genre going.
There's free tequila and prizes galore, so if you're done with the "2 Fat Ladies", but still got time for some Aretha (and fancy winning some lovely lolly to spend at the bar!), come Mods and Rockers, Punks and Rudeboi's, Greebos and Grungers, Dirty Wine'rs and Good Ol' Timers - come on down and party like its your Nan's 70th. If your Nan was Debbie Harry.
Weekend Music
FRIDAYS from 5pm | INDIE ROCK & ROLL FOR ME

Indie rock and roll for me ...and maybe some pop punk and stuff aswell. Arctic Monkeys, The Killers, New Found Glory, AC DC, Fall Out Boy, The Vaccines, Panic! At The Disco, Jamie T and probably more. Fridays just got better. FREE ENTRY + happy hour £5 cocktails all day & night!

SATURDAYS from 8pm | PB&J Present HIPHOP/FUNK/SOUL/R&B SATURDAY JAMS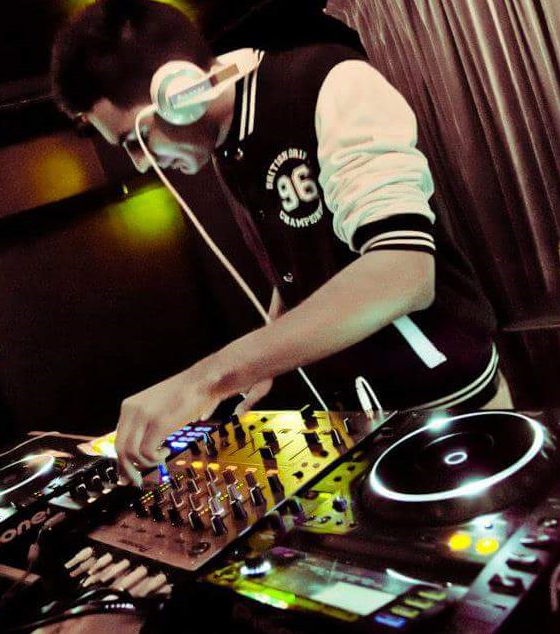 Saturday residency with PB&J DJ collective brings you the best hiphop, funk, soul and R&B known to man at their Saturday Jam sessions. Seriously good booty-shaking tunes and best times in NQ.
Between them, the three DJs of PB&J collective have pretty much played in every bar and club from the Northern Quarter, Deansgate, Chinatown to the spots tucked away somewhere in the City centre. Focusing on keeping an organic sound and feel, expect to hear the likes of James Brown, A Tribe Called Quest, Aretha Franklin, Erykah Badu and Kaytranada. PBJ have a consistent flow of sounds that are sandwiched with edits and remixes that keep the feel of the old with the new.
Piggy Offers
HAPPY HOUR
Monday - Thursday 5-7pm & Fridays all day & night from 12noon-close:
Fabulous selected cocktails £5 For our full cocktail menu, click here.
Monday - Thursday 5-7pm & Fridays 12noon-9pm:
Fine Wines just £10 a bottle
Amstel pint £3

Tastings & Other Delights
On our quest to discover new delights, we host regular events and interesting tastings – ask at the bar for details and join us for some unique and memorable quaffing experiences.
Keep checking the site or keep in touch with us on Facebook and Twitter.