COMING UP AT THE BLUE PIG:
HAPPY HOUR ALL DAY EVERY FRIDAY
Don't let that desk tie you down; Fridays are for long boozy lunches and knocking off early!

Happy hour drinks ALL DAY from 12noon with £5 selected cocktails (12pm-close), £3 selected draught (12-9pm) and £10 bottles of wine (12-9pm).

Get your weekend started as you mean to go on!
PIG-TUREHOUSE
BI-WEEKLY TUESDAYS | 8PM | FREE ENTRY
CULT FILMS SERVED UP WITH MOVIE INSPIRED COCKTAILS! Booking is highly recommended, so get in touch with us today to reserve a table: manager@thebluepigmcr.co.uk / 0161 832 0630
Tuesday 25th July @ 8pm
RESERVOIR DOGS

To mark the 25th anniversary of Tarantino's timeless cult classic, Pig-turehouse is delighted to bring Reservoir Dogs to Piggy's big screen!
Tarantino's debut feature film boasts his trademark non-linear storyline, graphic violence, character-driven dialogue, dark humour and mishmash of pop culture references.

Reservoir Dogs charts the before and after of a botched diamond heist, and features an outstanding cast including Harvey Keitel (Mr White), Tim Roth (Mr Orange), Michael Madsen (Mr Blonde), Steve Buscemi (Mr Pink), Edward Bunker (Mr Blue), Quentin Tarantino (Mr Brown), Chris Penn ("Nice Guy" Eddie Cabot) and Lawrence Tierney (Joe Cabot).

A must see for fans of Tarantino and cult film buffs alike - make sure you don't miss out!

FUTURE SCREENINGS: A CLOCKWORK ORANGE (8th August) // ROMEO & JULIET (22nd August) // LABYRINTH (5th September) // FLASH GORDON (19th September) // BLADE RUNNER (3rd October) // TRUE ROMANCE (17th October) // HALLOWEEN DOUBLE BILL: HOKUS POKUS 6pm & THE EXORCIST 9pm (Tuesday 31st October) // THE BIG LEBOWSKI (7th November)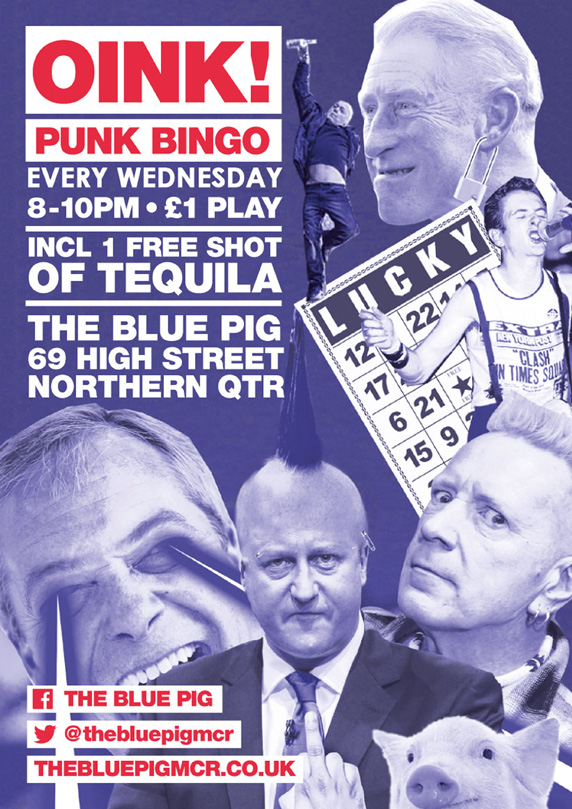 OINK PUNK BINGO!
EVERY WEDNESDAY | 8-10PM
£1 PLAY INC FREE SHOT OF TEQUILA

Oink! Punk Bingo at The Blue Pig Northern Quarter is a new fangled, pants dropping, white knuckle twist on the Great British pastime, playing classic hits from the 60's all the way through to the naughties.
There are prizes galore, so if you're done with the "2 Fat Ladies", but still got time for some Aretha (and fancy winning some lovely lolly to spend at the bar!), come Mods and Rockers, Punks and Rudeboi's, Greebos and Grungers, Dirty Wine'rs and Good Ol' Timers - come on down and party like its your Nan's 70th. If your Nan was Debbie Harry.
Weekend Music

SATURDAYS from 8pm | PB&J Present HIPHOP/FUNK/SOUL/R&B SATURDAY JAMS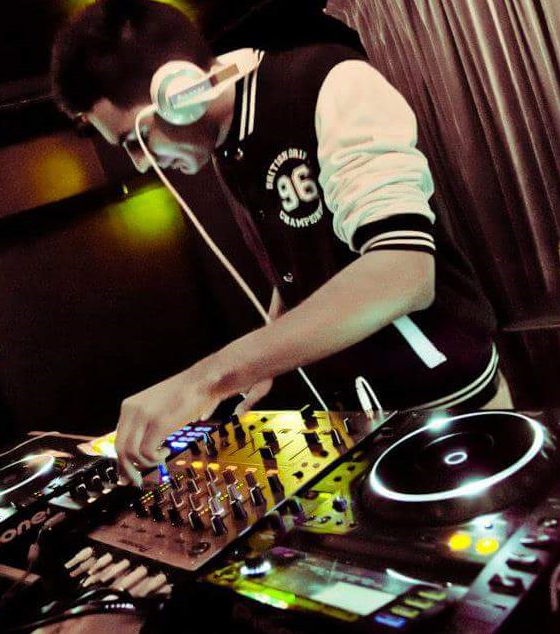 Saturday residency with PB&J DJ collective brings you the best hiphop, funk, soul and R&B known to man at their Saturday Jam sessions. Seriously good booty-shaking tunes and best times in NQ.
Between them, the three DJs of PB&J collective have pretty much played in every bar and club from the Northern Quarter, Deansgate, Chinatown to the spots tucked away somewhere in the City centre. Focusing on keeping an organic sound and feel, expect to hear the likes of James Brown, A Tribe Called Quest, Aretha Franklin, Erykah Badu and Kaytranada. PBJ have a consistent flow of sounds that are sandwiched with edits and remixes that keep the feel of the old with the new.
Piggy Offers
HAPPY HOUR
Monday - Thursday 5-7pm & Fridays all day & night from 12noon-close:
Fabulous selected cocktails £5 For our full cocktail menu, click here.
Monday - Thursday 5-7pm & Fridays 12noon-9pm:
Fine Wines just £10 a bottle
Amstel pint £3

Tastings & Other Delights
On our quest to discover new delights, we host regular events and interesting tastings – ask at the bar for details and join us for some unique and memorable quaffing experiences.
Keep checking the site or keep in touch with us on Facebook and Twitter.