COMING UP AT THE BLUE PIG:
HAPPY HOUR ALL DAY EVERY FRIDAY
Don't let that desk tie you down; Fridays are for long boozy lunches and knocking off early!

Happy hour drinks ALL DAY from 12noon with £5 selected cocktails (12pm-close), £3 selected draught (12-9pm) and £10 bottles of wine (12-9pm).

Get your weekend started as you mean to go on!
CHRISTMAS BOOKINGS! We are taking bookings for Christmas parties of all sizes, from 2/3 course dinners to buffets! Get in touch today with your party size and requirements and our organiser will get back to you! Check out the MENU HERE
Email: manager@thebluepigmcr.co.uk
50% OFF ALL BURGERS ALL DAY EVERY MONDAY!
PIG OUT MONDAYS! Give that Monday blues a miss and grab any of our legendary burgers 1/2 price all day every Monday: no vouchers or hassle - simply pop in and pick your favourite towering meaty delight or veggie / vegan treat! To book a table get in touch: manager@thebluepigmcr.co.uk / 0161 832 0630
Check out the menu HERE

Not valid in conjuction with any other offer.
PIG-TUREHOUSE
JANUARY LISTINGS & DATES TBA


Pig-turehouse film night is on festive break all throughout December, and will return in January with more classic flicks! Listings and dates to be announced soon.
CULT FILMS SERVED UP WITH LICOR43 MOVIE INSPIRED COCKTAILS + FREE POPCORN WITH ADVANCE BOOKINGS! Booking is highly recommended, so get in touch with us today to reserve a table: manager@thebluepigmcr.co.uk / 0161 832 0630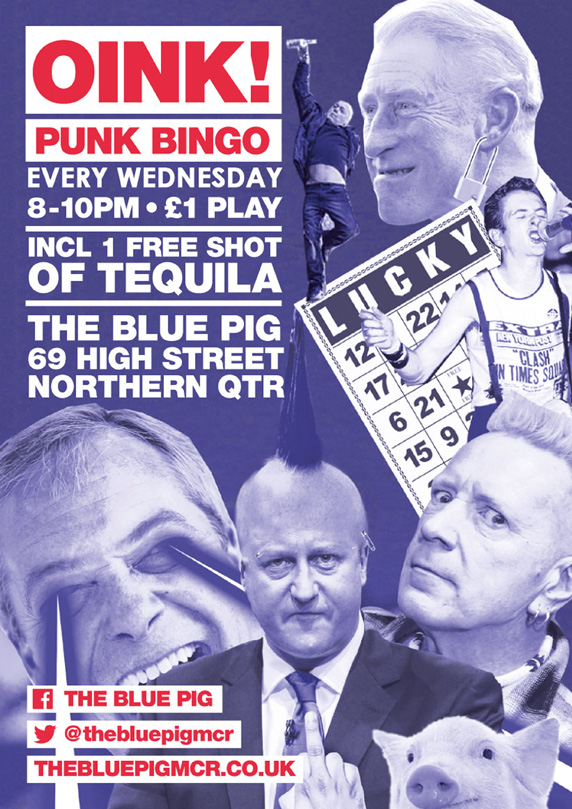 OINK PUNK BINGO!
EVERY WEDNESDAY | 8-10PM
£1 PLAY INC FREE SHOT OF TEQUILA

Oink! Punk Bingo at The Blue Pig Northern Quarter is a new fangled, pants dropping, white knuckle twist on the Great British pastime, playing classic hits from the 60's all the way through to the naughties. Join your hosts Ed (Edinburgh Festival stalwart and reigning Lincoln Walkabout king of comedy) and Soph ('Do You Remember The First Time?' clubnight's DJ), as they sling on the hits (and misses) of every genre going.
There's free tequila and prizes galore, so if you're done with the "2 Fat Ladies", but still got time for some Aretha (and fancy winning some lovely lolly to spend at the bar!), come Mods and Rockers, Punks and Rudeboi's, Greebos and Grungers, Dirty Wine'rs and Good Ol' Timers - come on down and party like its your Nan's 70th. If your Nan was Debbie Harry.
Weekend Music
FRIDAYS from 5pm | INDIE ROCK & ROLL FOR ME

Indie rock and roll for me ...and maybe some pop punk and stuff aswell. Arctic Monkeys, The Killers, New Found Glory, AC DC, Fall Out Boy, The Vaccines, Panic! At The Disco, Jamie T and probably more. Fridays just got better. FREE ENTRY + happy hour £5 cocktails all day & night!
NEW DJ RESIDENCY kicks off on Halloweeen Friday 27th October! Will Graney (Cassette Jam) and Dan Deighan (Sound Control / Brickhouse) will be taking the reigns and smashing out the biggest Indie hits every Friday!

Touring DJ Will Graney is an established face in the Manc music scene with over decade of experience behind the decks, performing gigs all over the word and holding residencies at some of the biggest names in clubland; Cassette Jam won the Cream international DJ Competition 2006, and held residencies in Cream Ibiza, Ibiza Rocks, The Dirty Disco and Chibuku Shake Shake.

Manchester based DJ Daniel Deighan started out in 2007 at the renowned Brickhouse night club, and went on to DJ at bars all over the city including Dry Bar, Sound Control, Zoo, Gas Works and Arcane. Also a regular feature in the festival circuit, Dan delivered the closing set of 2017's Kendal Calling Festival.

SATURDAYS from 8pm | PB&J Present HIPHOP/FUNK/SOUL/R&B SATURDAY JAMS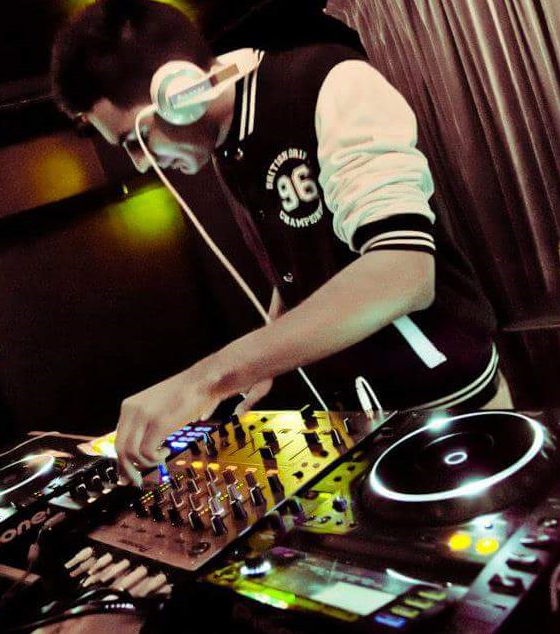 Saturday residency with PB&J DJ collective brings you the best hiphop, funk, soul and R&B known to man at their Saturday Jam sessions. Seriously good booty-shaking tunes and best times in NQ.
Between them, the three DJs of PB&J collective have pretty much played in every bar and club from the Northern Quarter, Deansgate, Chinatown to the spots tucked away somewhere in the City centre. Focusing on keeping an organic sound and feel, expect to hear the likes of James Brown, A Tribe Called Quest, Aretha Franklin, Erykah Badu and Kaytranada. PBJ have a consistent flow of sounds that are sandwiched with edits and remixes that keep the feel of the old with the new.
Piggy Offers
HAPPY HOUR
Monday - Thursday 5-7pm & Fridays all day & night from 12noon-close:
Fabulous selected cocktails £5 For our full cocktail menu, click here.
Monday - Thursday 5-7pm & Fridays 12noon-9pm:
Fine Wines just £10 a bottle
Amstel pint £3

Tastings & Other Delights
On our quest to discover new delights, we host regular events and interesting tastings – ask at the bar for details and join us for some unique and memorable quaffing experiences.
Keep checking the site or keep in touch with us on Facebook and Twitter.